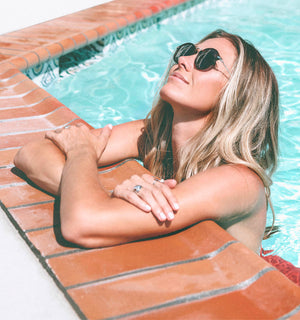 OUR STORY
June First was founded on the idea of creating luxury high-end eyewear you would find at fashion boutiques, but at an affordable price.
Inspired by Hollywood's golden age, we combine fashion from the past and the present to create timeless eyewear.
Why "June First"?
The brand name June First is a perfect mix of femininity and nostalgia.

The name 'June' is not only gorgeous, but it also brings to mind the first month of summer.

Plus and more importantly June First is Marilyn Monroe's birthday - what could be better than that?
TIMELESS STYLE
Designed in California, and inspired by the past - each frame is carefully created to make you look beautiful.

The designs are simple yet elegant. We obsess over the details and balance between classic and contemporary aesthetics.The result? Designing the future and creating beautiful, timeless eyewear.
HIGH QUALITY
June First eyewear is carefully designed and built with the best materials available.

Our frames are crafted for comfort, durability, and long-lasting wearability. Our lenses uphold the highest quality standards for clarity and protection against the sun with 100% UV protection.
Exclusive Drops
We're thrilled to share our one-of-a-kind silhouettes with you and celebrate the many ways in which women can be beautiful without being limited. Exclusive drops are coming down the pike, so stay tuned!